Apply to the Voluntary Register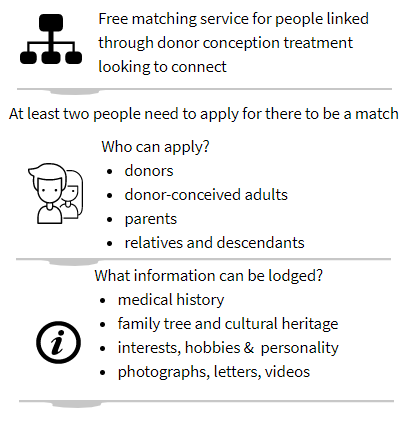 The Voluntary Register is a free matching service for people linked through donor conception treatment in Victoria looking to connect. Two or more people need to apply for there to be a match. This includes, donors, donor-conceived adults, donor siblings, parents, partners, family members and descendants.
Applicants can decide what information they wish to lodge. This can include information about:
medical history
family tree and cultural heritage
interests, hobbies and personality
photographs, letters, videos etc.
If a match is found, VARTA will contact the applicants and information can be exchanged if all parties agree.
If no match is found, the first applicant will need to wait until another person linked to them applies.

1. Apply to the Voluntary Register
As the applicant you will need to complete the application form, attach the required proof of identity documentation and submit your application. It is possible for a family or family members to submit a joint application. Voluntary Register application form
2. VARTA searches for a match
VARTA searches for corresponding matches on the Voluntary Register and writes to each party to let them know when matches occur.
VARTA will need sufficient information that parties are related to be able to match people on the Voluntary Register. This is usually done using a donor code. Unfortunately, if existing records are poor or have been destroyed it may not be possible to link parties on the Voluntary Register.
Some people have been able to find their donors or people conceived by the same donor (donor siblings) via DNA testing and social networks. VARTA is not able to provide DNA testing to establish matches on the Voluntary Register. However, VARTA staff can support you and any person with whom you believe you are connected through this process.
If there is no match
If there is no corresponding link on the Voluntary Register, then the first applicant will need to wait until another person they are linked with applies. As the numbers of people who apply to the register grows, there are likely to be more matches.
The information can remain on the Voluntary Register for as long as the applicant wishes and can be passed to another matched applicant after someone has died with their pre-arranged consent.
Update your details
Make sure you inform VARTA of any changes or updates to your details, including:
contact details
new health or medical information relating to you or your immediate family.
3. Outcome notification
If two or more applicants are matched on the Voluntary Register, they are each contacted and can exchange information if they wish. No identifying information will be shared without consent.
4. Information & support sessions
Each matched party attends a free information and support session following a formal application.
During this session you will discuss:
your motivations for making the application and what you hope to achieve
the implications of making an application for you, the subject of your application and close family and friends
the implications of making contact
the importance of establishing realistic boundaries
the emotions you may experience
potential difficulties in the search process (e.g. if records are incomplete, the subject cannot be located)
your statement of reasons. Writing your Statement of reasons 
5. Complete your statement of reasons
A statement of reasons is a short document explaining your motivations and what you would like to happen (both short and long term) as a result of the application. Your completed statement of reasons is forwarded to the contacted party and can help them understand why you are seeking information and/or contact. If mutual understanding is established, it may lead to further correspondence through letters or email in the future. 
Your counsellor will guide you through writing your statement of reasons in the information and support session. It can be useful to think about a few ideas prior to the session. You can find a guide to writing your statement of reasons here. You can complete the Statement of reasons during a session or take it home to complete.
6. Information exchange
The VARTA counsellor shares information which the applicants have agreed to release and offers support to each party throughout the process.
Contact between people varies enormously and there is no etiquette guide about how best to approach this. Options for donor linking include:
facilitated email exchange
setting up a non-identifying email address
a facilitated meeting supported by the VARTA counsellor
exchanging contact details (e.g. telephone, address).