Louis Waller 2018 - a look back on the early days of donor conception in Victoria
2018 |
Donor conception
Regulation
Other
Events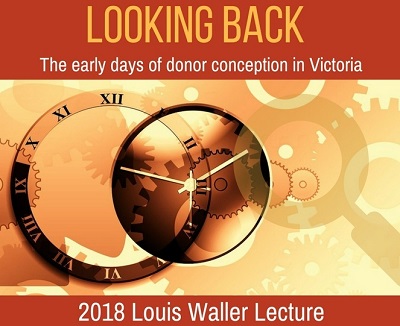 More than 160 people attended the 2018 Louis Waller Lecture| 'Looking back: the early days of donor conception in Victoria'| making it VARTA's largest Louis Waller Lecture to date.
The evening, launched by the Victorian Minister for Health the Hon Jill Hennessy MP by video, and compèred by VARTA Chairperson Kirsten Mander, was particularly special because the keynote speech was delivered by Emeritus Professor Waller himself.
Professor Waller provided a thoughtful overview of, and insight into, developments that led to the first assisted reproductive treatment legislation in Victoria and, indeed, anywhere in the world.
Professor Waller was followed by Dr Fiona Kelly, Associate Professor of Law at La Trobe University, who delivered a fascinating overview of research compiled for the 'History of Donor Conception Records in Victoria' report. The evening also provided the platform for the public launch of the report.
Dr Lauren Burns, VARTA board member and donor-conceived person, followed Dr Kelly. Dr Burns shared a moving personal response to the findings of the report and perspective on what this information will mean for donor-conceived people.
The final aspect of the evening was the unveiling of VARTA's History of Donor Conception in Victoria online gallery, which will provide a range of historical material together with recordings of personal experiences of parents, donors and health professional of the early days of donor treatment. The gallery will capture a sense of what donor treatment was like in the early days in Victoria to help create a clearer picture for the people born at that time as a result of the treatment.
VARTA welcomes involvement from parents, donors and health professionals with experience of donor treatment in the 1970s and 80s willing to be interviewed for the online gallery. Please email Marjorie Solomon if you would like to be involved.
Feedback regarding the 2018 Louis Waller Lecture has been very positive. VARTA thanks all those involved in the evening and is grateful to all those who attended for their support.
| | |
| --- | --- |
| "The History of Donor Conception Records in Victoria" report | Pre-event refreshments |
| The Minister launches the 2018 Louis Waller Lecture | Professor Waller makes some impromptu remarks after his presentation |
| A view of the audience at the event |   |