How to talk to a child about becoming a family with the help of a donor
Louise Johnson is CEO of the Victorian Assisted Reproductive Treatment Authority (VARTA).
Louise is also and spokesperson for the Fertility Coalition (VARTA, Jean Hailes for Women's Health, Andrology Australia and the Robinson Institute) which runs the Your Fertility program and provides advice about the best way for people to optimise their fertility.
After three years of trying to conceive without success Jessica Busuttil and her husband Phillip were told that Phillip had a condition called azoospermia, which, in layman terms, means that Phillip had no sperm.
"This diagnosis was totally unexpected," Jessica explained. "It was an extremely difficult and emotional time in our lives – we just felt lost."
After discussing their options with a specialist, the Busuttils decided that a sperm donor was the only way for them to fulfil their dream of having a family. Using a sperm, egg or embryo donor has become an increasingly common method to conceive a child. In the past 20 years, almost 4500 children born in Victoria have been conceived this way. In January 2013, Jessica began IVF treatment and in October they welcomed their son Oliver James.
While Jessica and Phillip were thrilled to have Oliver as the newest member of their family, they recognised that their situation was a little different from most of the people they knew.
From the beginning they understood they needed to decide what they would tell their son about the way in which he came into the world.
For most people, having a picture of their genetic and ancestral heritage is fundamental to their sense of identity. For donor-conceived people or those born of a surrogate, understanding their biological origins – and knowing their medical history – is crucial to having a complete picture of who they are. How comfortable they are with this picture is often shaped by the manner in which they learn of their beginnings. The best scenario for a child – and for the people around them – is that they learn this information from their parents in an open, supportive environment.
However, it can be daunting for many parents to find the right words to explain to their child that they were born as a result of a sperm or egg donation, or from a surrogate. And the idea that parents would be open and honest about this subject with their child is still relatively new. A generation ago, parents were often advised not to tell their children about how they were conceived, but research has shown that avoiding full and open disclosure about a child's origins is not good for the child, their parents or the health of family relationships.
Like many parents in their position Jessica and Phillip were unsure what to do.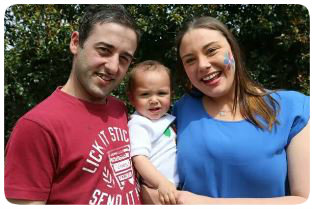 Phillip, Oliver (centre), and Jesssica Busuttil  
Experience has shown that most donor-conceived people feel more positively towards their parents – especially the non-biological parent – as a result of finding out about their conception. The biggest issue for parents is working out how and when to tell their child. Fortunately, there are now many resources which can help give parents advice, confidence and understanding about what to say and when to say it.
When to tell your child about their donor conception
It is never too early and never too late to tell children about how the family was formed. You can begin to tell your child the story of their conception even before they are born.
When they are a baby. When the baby is born, you can tell the story as you feed, change or settle your baby. It's a good way to practice telling the story so that when your child is old enough to understand it, you feel comfortable and confident in explaining how they were conceived.
When they are a toddler. Toddlers need only very simple information. You can begin by teaching them body parts, using the correct terms and about the different sorts of families that exist. How babies start, the extra help that was needed from a donor and a surrogate (if this was the case) can be explained.
When they are in primary school. Primary school-age children are able to begin to understand the implications of being donor-conceived or gestated by a surrogate. If donor-conceived, they may begin to understand the concept of genetics and start to question what they inherited from their parents and how they are influenced by their donor. Sometimes learning about genetics at school or seeing something on television prompts more questions. You may also use these opportunities to raise the topic. Children may also be interested in the mechanics of the treatment you went through to have them. Answer their questions simply and honestly and encourage more questions. In later primary school, if heard for the first time, information may come as a surprise and the child is likely to need time to absorb it. This is also a stage of life when children want to be just like everyone else and they may start to become self-conscious about their conception. Talking about reproduction may be a little embarrassing for them – especially if puberty is starting and their body is changing. They may become more selective about who they confide in with this information.
When they are a teenager. Talking to teenagers needs to be handled very sensitively, given physical and emotional changes, questioning in relation to identity, testing of boundaries and increasing independence. Introducing new information about family formation can exacerbate this. At the same time, research conducted with teenagers on their opinions about telling revealed that they thought that donor-conceived people had a right to know; they preferred their parents told them; that they appreciated there was no easy way to tell other than to say it; and recognised the need to talk as a family together with all the children being told at the same time. They also suggested that parents should explain why they had not told them before, that they feel they are old enough to understand and now want their children to know the truth.
This article was first published by The Bub Hub