Possible health effects of IVF
This brochure was developed with the help from experts in the IVF field. In the hands of experts| IVF procedures are safe and medical complications are rare. But as with all medical procedures| there are some possible health effects. This brochure provides an overview of the possible physical and emotional health effects of IVF for men and women| and outcomes for children born as a result of treatment. The information refers to IVF and intracytoplasmic sperm injection (ICSI).
This brochure is also available in other languages see above for translations.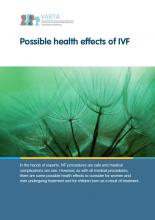 Download